When it comes to home improvement projects, it might be hard to choose where to start with all the rooms your house may have. Why not start from the bottom up and fixate your initial work toward that basement of yours? That bottom area of your home has limitless potential for creativity and ideas on how to utilize it to its full potential. In need of some inspiration on what to add down in your basement? Look no further, as we are here to provide you with a few plans and things to be aware of when remodeling your basement.
FIGURE OUT WHAT YOUR END GOAL IS
Before getting into suggestions below, we figured now might be a good time to pose the question of "how do I want to use my basement?" For some, you may want to simply use it as an area for storage, sort of like an attic. For others, there might be some desire to create an entertainment area. 
Answers might vary from one homeowner to another depending on budget and what other fixtures you might have in your home. As you start to brainstorm possible uses, everything will begin to funnel in, going from a broad idea to a specific plan.
Whether you are interested in adding a nice man cave or even your own personal home theater, there are plenty of options to entertain both yourself and guests in your basement. For an older clientele, you could also add a nice bar area to this room, topped off with a space to showcase your wine collection. For those interested in fitness, the basement is also a great space to develop your own home gym. Cut the cost of a gym membership and having to commute by bringing the weights and machines to the comfort of your home. And for parents out there, the basement can serve as a nice play area for your kids and all of their toys!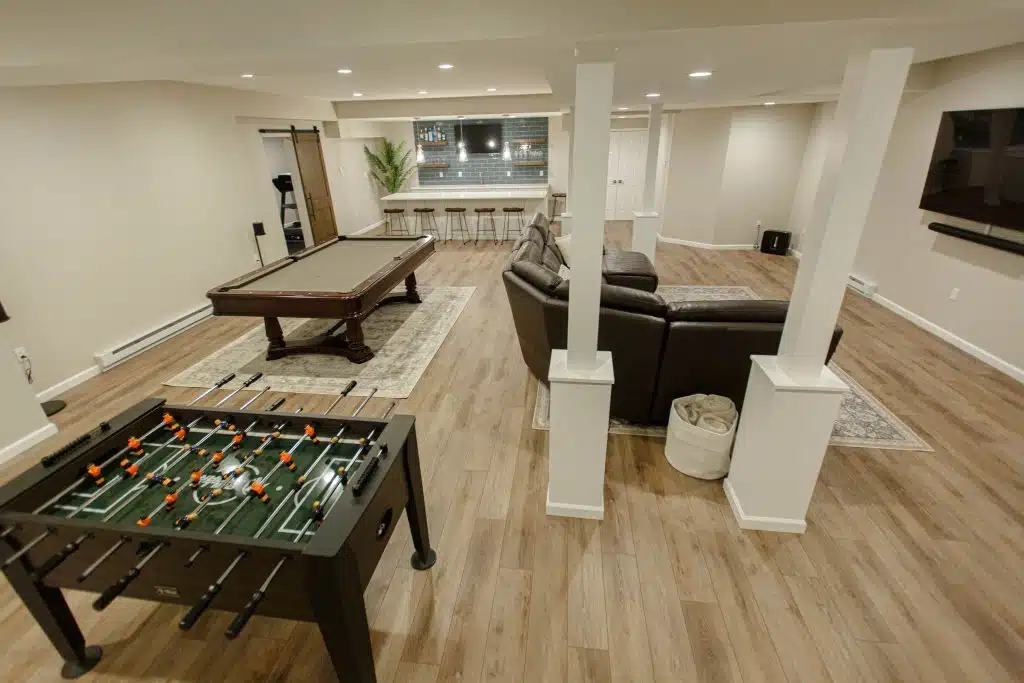 For those looking to create a functional area for your home, you can treat your basement like a second home. Go on the small scale of a second living room or a larger laundry area, or make the most of the size and craft your very own condensed house with all the staple fixtures! 
Think of the basement area as a studio apartment, where everything you need is within a few feet of you. This route also can serve as an entertainment option, so feel free to customize and put your own flair on this basement living area.
Have a question about your basement remodel or want to jump start the process? Head over to our contact page to get in touch with us about your next home project!